Following the release of dance film 'Play', this blog series will delve in to the making of it from the perspective of those who created it. We asked each of the Improvising Generations members involved to reflect on their experience of taking part in the project, and to share their insight in to how 'Play' came to be.
Introducing Paul
When asked to bring an object or image that reminded him of play, Paul brought an image of his Hornby train set. This resulted in recreating said set in his living room to film and share with the group, offering inspiration for a sense of adventure and journey through play. Paul brought a zest for discovery and creative ambition to the project, highlighting the importance of inspiring play throughout the journey of our lives, as well as our childhood.
 What are your lasting memories of play?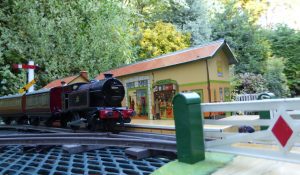 From childhood, they have to include constructing model houses with my brilliant Bayko building set and making a model theatre complete with scenery, lighting and puppet actors. But above all, is the memory of being spread eagled on our living room floor for the best eye-level view of my Hornby clockwork train pulling into the station – just within the platform length – all ready to climb on board for an imaginary day out at the seaside!
How does play and the memory of it make you feel?
I sense play as a child helped develop interests and skills that have followed me into adulthood. Perhaps it was my Bayko building set that influenced my career choice as an architect and my model theatre that kindled a love of stage design and performance.
Looking back to my train set, I remember it being a key part of my early play years helping to explore ideas of movement, travel, formations, rhythms, arriving and departing. It is fascinating on reflection, that these are all choreographic terms used in dance – a passion that's followed me into adulthood!
In what ways did you bring those memories and emotions in to the #TAG Improvising Generations film?
My mind goes back to summer days of excitedly waking, helping to pack a picnic together with beach balls and our buckets and spades. There was the expectant wait at the station for the huge steam engine to arrive, the fun of the journey and the absolute joy of the first glance of the sea! Then the race to the beach, a first dip in the sea, the challenges of cricket, hop scotch, castle building and who could throw the beach ball furthest…and yes, Dad retrieving the ball from the cliff top trees!
Why did you want to take part in the project, and how would you describe your experience of it?
With dance opportunities and performance being so limited by the Covid restrictions, taking part in making the film was a really valuable way of continuing engagement with other dancers.
Bringing movement, music and film-making together to co-create an interpretation of play was fascinating. It illustrated how play extends beyond the simple joy of relaxation and fun, but also provides an opportunity to explore emotions and responses to others and the world around us – not just in childhood, but also as an adult.
What was your reaction to the final film?
It was magical to see our several hours of experiment and rehearsal encapsulated into just eight minutes.
The pillow fight brought back laughter, action man a reminder of our inner strengths and tensions, the train journey a reminder of discovery and adventure and the final scene a reminder of the joy play can bring to our lives…and to 'keep playing'…no matter what age we are!
To watch #TAG Improvising Generations: 'Play', follow this link: https://vimeo.com/458942050
'Play' was commissioned as part of our #TAG project and created in collaboration with Hertfordshire residents via Zoom. #TAG aims to celebrate Hertfordshire Year of Culture 2020, funded and supported by Arts Council England, Dacorum Borough Council, Three Rivers District Council and Watford Borough Council.
Blog by Hannah Delaney & Paul, December 2020