Following the release of our dance film 'Play', this blog series will delve in to the making of it from the perspective of those who created it. We asked each of the Improvising Generations members involved to reflect on their experience of taking part in the project, and to share their insight in to how 'Play' came to be.
Introducing David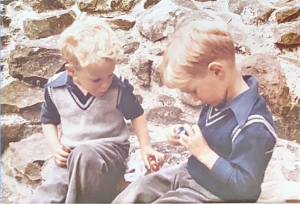 When asked to bring an object or image that reminded him of play, David shared such detailed and reminiscent tales of play throughout his childhood, that it felt as if the group could have been in the room playing with him. David used the 'Play' project as an opportunity to express himself as a disabled artist, to share his perspective and inspiration from poetry, that would bring powerful creative input to the final film. Here David shares some of his inspirations:
(Cambridge English Dictionary)
PLAY
verb (enjoy)
When you play, especially as a child, you spend time doing an enjoyable and/or entertaining activity.
(Save The Children – United Nations Convention On The Rights Of The Child) – Extracts
ARTICLE 13 (freedom of expression) Every child has the right to find out and distribute information and to express their ideas – through talking, writing, art or any other form of expression.
ARTICLE 23 (disabled children) Disabled children have the right to enjoy a full life, with dignity, and to participate as far as possible in their community. The government should support disabled children and their families.
ARTICLE 31 (play and cultural and artistic activities) Every child has the right to relax, play and take part in cultural and artistic activities.
(Proverb)
"The Jewel of The Sky Is the Sun" – The Jewel of The House Is The Child – The Philippines
Childhood Days
Again want to enjoy all these views
B/c now realized how precious chilhood is.
Again want to be child
Again want that sins free mind
All these hair that were unstyled
Again want to enjoy all these views
B/c now realized how precious chilhood is.
That heart touching thing
When birds used to sing
And I play on swing
Again want to enjoy all these views
B/c now realized how precious chilhood is.
Vansh Lalwani © All Rights Reserved
Childhood is a gift
With full of surprises
It is a energy of life
No, rules of life
So, cool we were
As nature!
Stolen many hearts
Through innocence
Dancing under
Rain of happiness
Touching rainbows
With eyes
Playing on the nature lap
Leaping as frogs
No, time to cry
All time we made to play
Our face smiled less
Hearts smiled More
All equal, no caste, no colour
Those were halcyon days
Childhood, a beautiful
Impression of life
It was the day I lived fullest
Blessed, because once I was
A child
Childhood is a song of
Happiness that sings
Every heart
Shabana Banu © All Rights Reserved
DAVID
 Teddy
My earliest memories of play are tactile. Touch played a big role in my early life, which explains why I have a strong bond with my Teddy, especially with the ribbon around his neck, which is blue, has an interesting feel with the best part being the knotty bit in the middle, perfect for relieving the tedium of tinnitus and the boredom of silent nights.
Teddy and I went everywhere, he got very thin. A visit to my cousins changed that. She stole him in the dead of night. I cried… finally getting to sleep and then…she brought him back… but what a change…nothing thin any more…instead an Ursa Pinocchio – re-stuffed and ready for anything!
The Bus
I had a blue bus, which I played with so often that the floor fell out and had to be tapped back in.
Climbing Frames
When I was small, I loved climbing frames.  We had a metal one in the Recreation Ground in Stansted. I would climb to the top. My mother would have to ask in her special way, to climb down.
The Disappearing Act
My hearing aids arrived when I was four and a half. Overnight my world transformed from hearing very little to hearing everything – too many sounds at once.  I was overwhelmed.  Sometimes to escape, I would play accidental hide and seek.  At my cousins' wedding, I hid in a window aperture until I was discovered.
The Dark Room
My brother would tie me to a table in a dark room and see how long it took me to escape. Usually I managed this quite quickly because of my enhanced sense of touch, which I used to untie the knots with. Though impaired, my vision chipped in too. I remember focusing on the strips of light that I could see. These helped in finding my way out.
Board Games
My brother and I played various boardgames. Monopoly was one of our favourites. One wet summer we played the same game for three weeks. We printed our own money etc. Other times we played different games with friends, we were learning social skills through play.
Games From Around the World
As children we were introduced to games from around the world. From China to Africa. The African ones were the most interesting; it involved dropping balls into a rectangular container divided like a bar of chocolate.
Hornby
Actually, we were underage to have a Hornby train. It grew like the plants in the garden. We extended our house to accommodate it.
Lego
Lego was a firm favourite throughout our childhood. I built the models, then looked at them during the night imagining the goings-on inside.
The Computer
My brother and I were the first generation of the computer age. This gave us opportunities to create a hybrid of imaginative and technical play.
Creative Writing, Drawing & Reading
My Mother determined that I should read. She accomplished the task while we waited for the taxi that took me to school. Reading gave me a fascination for knowledge Islands and Shorelines of Wonder, which persists. I started to write poetry at primary school.  Drawing was a challenge, owing to poor hand co-ordination – occasionally my highly visual mind was able to express itself on paper.
Play
The two of us
played anywhere
under the duvet
round a chair.
Always with something
Sometimes with nothing,
On the ground – over and under.
In the tree – on the swing – in the air!
We visited countries far and wide – from the garden
and inside.
We played by day and by night, making shadows, or seeking bright.
Changing levels on the stairs.
We played anywhere, everywhere and over there!
To watch #TAG Improvising Generations: 'Play', follow this link: https://vimeo.com/458942050
'Play' was commissioned as part of our #TAG project and created in collaboration with Hertfordshire residents via Zoom. #TAG aims to celebrate Hertfordshire Year of Culture 2020, funded and supported by Arts Council England, Dacorum Borough Council, Three Rivers District Council and Watford Borough Council.
Blog by Hannah Delaney & David, December 2020