BEEE Creative is a strong advocate of dance in schools and the community, working with partners and wider infrastructures to bring dance to a broad range of communities, with an emphasis on physical, social, intellectual and emotional wellbeing. This ethos requires support and engagement with local funders and we recently interviewed our Director, Carrie Washington to find out how a grant from North Hertfordshire District Council (NHDC) has enabled BEEE Creative to develop community focused dance workshops in Royston.
How and why was BEEE Creative created?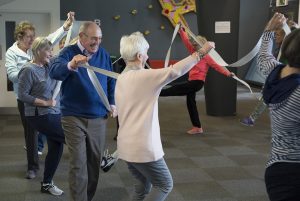 BEEE Creative was established in 2015, with the ideology of making a social change by improving access to dance participation for local people in Hertfordshire and Bedfordshire; producing high quality, ambitious and insightful dance interactions. We do this to maximise the local cultural offer, so that anyone, of any age or background, has the opportunity for lifelong learning and an enhanced sense of wellbeing through dance.
Why did BEEE Creative decide to apply for NHDC grant funding?
We applied for NHDC grant funding to develop creative movement workshops at Royston and District Museum and Art Gallery, for families with pre-school children and for older adults, with a focus on engaging with exhibitions at the Museum and as a celebration of the Hertfordshire Year of Culture 2020 initiative.
How does BEEE Creative help the people who attend? What are the benefits to attendees?
The project is built on the success of similar completed dance programmes at the museum and through consultation with local residents. The main emphasis was on providing access to a fun activity with opportunities to connect with other people. It gives people the chance to develop physical wellbeing, learn new skills, get to know other people and a lot of the time just have a bit of fun – which makes everyone (the dance artist included!) feel just that little bit better.
What did you do with the funding?
We have run 64 creative dance workshops, split across sessions for families with toddlers and pre-school children and for adults. Since April, due to the pandemic, these have been delivered online through Zoom.
Have you had to adapt how you have used the funding due to the coronavirus pandemic? If yes, how?
When lockdown happened there was an appetite from the regular participants to keep dancing and keep connecting. So, having never heard of Zoom before March, we launched ourselves into a steep learning curve of how to deliver dance activities online. We had a bit of trial and error getting sound levels right and sorting settings so everyone could see the dance lead, but we got there! It has truly been a highlight of the dance artist's week, leading both the family dance session and adult classes online.  It has given everyone involved a focus point and a little bit of structure in the lockdown weeks where the days just seem to merge.
How did/will the grant help those who attend the classes?
Adults have indicated that the feelings of loneliness have reduced as a result of taking part in the workshops and all respondents have told us that they have learned new skills or increased physical wellbeing.
What does the future hold for BEEE Creative?
In the immediate future we will be navigating what a return to dance in a physical setting may look like in Royston. We currently continue to deliver online and there is potential that there will be an element of blended delivery in the future, as we have actually gained participants from further afield during lockdown, who all want to continue.
See examples of BEEE Creative's work on Vimeo at https://vimeo.com/user51304255
We're keen to continue to maintain regular engagement with the local community, through the many programmes and projects that BEEE Creative runs. Funding via grant opportunities and bids is essential in order for us to do this.
Photographs Courtesy of Simon Richardson Photography