Following the release of our dance film 'Play', this blog series will delve in to the making of it from the perspective of those who created it. We asked each of the Improvising Generations members involved to reflect on their experience of taking part in the project, and to share their insight in to how 'Play' came to be.
Introducing Sue: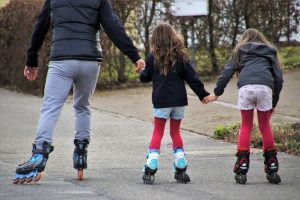 When asked to bring an object or image that reminded her of play, Sue invited us in to a world of freedom in the outdoors, to play in the street, in the garden or wherever you found space to set the scene of a game. Sue's imaginative freedom brought light-hearted fun to the process and making of 'Play':
What are your lasting memories of play?
Childhood games are much more creative than games that have rules to follow.  My sister and I mostly played outside, either in the garden, at neighbours' houses or in the street as we lived in a cul-de-sac and all the street's children of different ages played together. Skipping and roller-skating were always popular.  We all had bikes and raced up and down the road whilst keeping an eye out for occasional cars. There were no delivery vans to worry about in the 1960s. We turned our garden shed into a sort of Wendy House. Mum made curtains for the window and Dad put a table on the side that dropped out of the way when not in use. The table became a shop counter, a hospital bed for dolls, a place for tea parties. If it was raining, we'd much prefer to be in the shed (which had no heating) doing our own thing than in the house.
How does play and the memory of those games/activities make you feel?
Probably wistful is the most appropriate word.  Until this project began, I hadn't thought about play for many, many years. I don't have children or grandchildren, so once I stopped playing games opportunities for play disappeared. As a young adult indoor games were popular, often involving drinking forfeits and I did play tennis and netball (both very badly) with friends, but wasn't ever a committed competitor.
In what ways did you bring those memories and emotions in to the #TAG Improvising Generations film?
The opportunity to play with fellow participants via Zoom was an interesting experience and quite different to the interactions at our normal monthly sessions. I think we grew into the process over the weeks. Pillow fights were great fun – definitely not something that my mother would have approved of when we were young, so a great treat to let rip through the screen without being told off.
Why did you want to take part in the project, and how would you describe your experience of it?
I love being part of Improvising Generations and would sign up to anything under that umbrella. It is always interesting to hear of others' experiences and the group is a safe space to share feelings. The project developed into something much bigger than I'd originally envisaged, partly due to the music composed by Matt, which set the mood beautifully for the different stages of life.
What was your reaction to the final film?
I've just watched the film again; each time I see something different. It exceeds my expectations – thanks to the skills of the filmmakers, the ideas and experiences of my fellow participants, the music and Laura's vision to meld all the different aspects into a cohesive whole. I am very proud to have been part of such a project.
I'd like to add special mention to David, whose moving words encapsulate childhood play completely.
To watch #TAG Improvising Generations: 'Play', follow this link: https://vimeo.com/458942050
'Play' was commissioned as part of our #TAG project and created in collaboration with Hertfordshire residents via Zoom. #TAG aims to celebrate Hertfordshire Year of Culture 2020, funded and supported by Arts Council England, Dacorum Borough Council, Three Rivers District Council and Watford Borough Council.
Blog by Hannah Delaney & Sue, November 2020