Every week we ask five questions to one of our artists about how they survive and stay creative during lockdown.
We continue with Laura Chiabolotti, who works as a dance artist for BEEE Creative's Improvising Generations. She is also a Dance Movement Psychotherapist.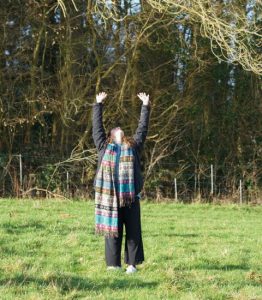 1. How has social distancing and lockdown affected your ways of working?
Being thrown out of autopilot mode, I suddenly had some space to rest and reflect on my practice. It felt important to me to maintain connections with the people I work for. I was figuring out how to best offer input including dance.
BEEE Creative was one of the few organisations I work for, that responded and tried to adapt early on. By creating an activity pack for Improvising Generations, we could reach out to our audiences, give them something to work with on their own. But then it is nice to talk about what they had done or even show it to me. Still I miss the physical connection. I feel I can't give the same as I would if I'm with them in the same space.
Nonetheless, I discovered that we can do much more than we think. I work with people with disabilities and complex needs. I couldn't imagine doing sessions remotely. Being all too aware of the dangers and the impossibility to protect them from afar. Under normal circumstances, I'd never have tried. But I felt the urge to stay in touch, provide some consistency and familiarity, even if that meant just saying 'Hey, I'm thinking of you'. But it went a lot better than I could ever have expected, we're basically doing sessions now. It's brilliant!
 2. During these tough times: what can still make you smile?
Apart from little things and feeling connected to my dear ones far away.
It is heart-warming to see how amazingly people adapt and feeling I can contribute to that in some way.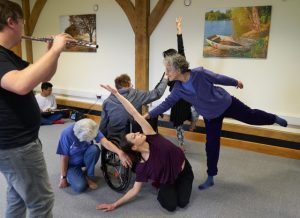 3. How do you keep yourself motivated, learning and creatively inspired during this challenging period?
By dedicating time to the things that are good for me and my practice. I like doing yoga and dance around in my living room as much as doing research into my practice.
I try to be honest with my feelings. On a hard day, I do easy things and I won't beat myself up if I don't get everything done. Some days I'm proud of myself just getting through it.
4. When lockdown and social distancing ends, what would you want to keep doing?
Dedicating time to nurture myself and my practice.
Keeping that sense of connection with people even if far away.
5. If you could give one tip to our readers to help them stay creative at home, what would it be?
Find a way to nurture yourself, whether this is art or cooking your favourite meal or anything. Do one thing a day that you love doing just for yourself.
We still have a small number of Improvising Generations Activity Packs, which include 18 postcards to create your own dance class at home. Email hannah@beee-creative.co.uk if you are interested in receiving a pack.
Blog by Laura Chiabolotti, 8 June 2020
*Photo credit: Simon Richardson