Following the release of our dance film 'Play', this blog series will delve in to the making of it from the perspective of those who created it. We asked each of the Improvising Generations members involved to reflect on their experience of taking part in the project, and to share their insight in to how 'Play' came to be.
Introducing Claire: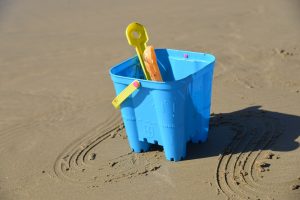 When asked to bring an object or image that reminded her of play, Claire introduced us to many a family holiday at the seaside, with an image of a bucket and spade on the beach, to set the scenes of exuberant fun had with her siblings building elaborate sandcastles. Claire also recalled many a playground game and competitive moment to challenge herself growing up, which all lent itself to her spirited yet thoughtfully reflective performance in 'Play'.
What are your lasting memories of play?
"Queenie, Queenie who's got the ball?
I haven't got it, nor in my pocket
So who HAS"? 
 "Keep the kettle boiling
Miss the loop
You're out"! 
I remember joining in those two chants that were an essential part of ball games and skipping rope games we played at school. It was very important to me to be included in a group, and I remember the swelling sensation of pride I had in belonging to a group, especially if I could keep the kettle boiling, and not get caught out with the ball in my hand.
I remember squealing very loudly and freely in Tag and chasing games; amazingly, being noisy like that in school play time was allowed.  A good way of letting off steam after a difficult arithmetic lesson!
I could also play happily by myself creating imaginary companions to be with. I used to trot up and down the road with "Goldie" my trusty steed and best friend.
When I was given a bicycle I would go regularly to a waste ground – a very popular playground for kids in our area, and cycle round and round a well worn path with lots of twists and turns, little hills and series of humps, smooth track and rough where I turned from a cyclist into a motorbike scrambling rider.
Holidays by the sea are full of happy memories, brightly coloured sticks of rock, rides on donkeys, powdery sand as much as you could want, bright clean air, a bracing wind coming off the sea, and voices of children and grown ups carried in the air on that wind. Our bucket and spade always red.
My brothers and I would get stuck in filling our buckets with sand creating the turrets of our sandcastle and then piling the sand high to create different levels of height and drop, and finally a moat, so that when the tide came in we could watch the sea fill it to the brim, and see our castle finally dissolve as the waves from the incoming tide engulfed it.
My brothers and I "played nicely" at the seaside; the squabbling and arguments over toys that went on occasionally at home, fortunately seemed to stay behind at home. We were content and happily absorbed digging sand, filling our buckets and turning them over to see a perfectly formed shape; smoothing and moulding the sand round those bucket shapes to create our castle with its passageways and different levels.
How does play and the memory of those games/activities make you feel?
When I was invited to take part in the #TAG film, and asked to think about memories of play, I thought initially I didn't have many, but with the help of ['Play' sound score Composer] Matt's evocative music score I started to delve into the memory bank, and was pleasantly surprised at the memories that came back to me – just a snippet sometimes: kicking through a pile of autumn leaves or running down a hill fast. I think part of the joy of childhood play is the freedom and abandonment that accompanied the play. The freedom to create an imaginary world, to pretend to be somewhere else and to be someone else, or simply and unselfconsciously enjoy splashing in puddles or making mud pies.
It's all too easy to remember play through rose tinted spectacles and forget the times when playtime didn't work so well. Sadly, I do remember trying to impress some friends by climbing up a tree, and then being too scared to climb down. My elder brother was sent for to get me down, he was non too pleased at that, and my pride took a real dent that day.
I think my mother must have got tired when I used to complain to her about my younger brother not playing properly or spoiling my game. If the rules are broken or someone's cheating, conflict arises.
In what ways did you bring those memories and emotions in to the #TAG Improvising Generations film?
I think the feelings of freedom and abandonment that come with play and doing things simply for the sheer pleasure of it are the strongest memories and emotions I brought to the making of this film.  Memories of being by the sea and building sandcastles brought to mind how absorbing such an activity was, and the contentment I felt, similar in some ways to the satisfied feeling you have after a good meal. I think the natural elements are absorbing, and help to relieve our anxieties – whether it's just looking at raindrops running down a window pane, or hearing and feeling the crunch of autumn leaves underfoot on a walk through a wood. I tried to express that aspect of play too, and Matt's musical score helped me tap into that feeling too.
I have quite a competitive streak; if it's a game where there are winners and losers, for better or for worse, I go all out to win. Our pillow fighting scene brought that side of my personality out.
Why did you want to take part in the project, and how would you describe your experience of it?
Although lockdown meant we couldn't have our monthly dance sessions in the nice spacious music hall at Hatfield School of Music, it's been a joy to meet and share ideas and moves on Zoom instead. Before lockdown we had been exploring the theme of play and tapping into aspects of play to inspire us to tell those stories out in our movement, so it was great to be part of this exciting film project, the theme of which seemed like a natural follow on from what we were doing before lockdown.
I was a little daunted to start with, and wondered if my grown up self was going to inhibit me in some ways, but as said previously, I was encouraged by the memories that came back, and I've so enjoyed re-enacting the scenes, exploring different aspects of character and personality such as wonderment, exuberance and other emotions like anxiety borne out of fear of the unknown or disconnectedness when relationships break down.
What was your reaction to the final film?
I'm thrilled and delighted with the final film. I think it explores and expresses play and what it means to play so well. A friend told me she just had to play at throwing and catching a cushion after watching the film.
I feel as though the film takes us on a journey – we start at the beginning in a secure, but fun and mischievous place, and then the fun is dispelled in the next scene as we seem disconnected from our natural spontaneity. In the third scene, hope and the promise of better things to come as we embark on a train journey to a new and unknown place, and in the final scene, we are freed from our anxieties as we are allowed to return to the play that brings us joy and happiness.
My favourite part of the film is when we hear David ['Play' Performer] recite his poem, in a deep and dreamy voice, suggesting times gone by, remembered with a clarity and with deep affection. As David recites his poem each one of us is seen enjoying a time of play and innocence. This scene evokes a kind of intermingling of sweet and sad feelings you get when you look at precious memories captured in a family photograph album, and start to reminisce about those times.
Thanks to all who had the vision to create this wonderful film and bring it to fruition – a film that celebrates the joy of play in all its forms, and all those who enjoy to do it.
To watch #TAG Improvising Generations: 'Play', follow this link: https://vimeo.com/458942050
'Play' was commissioned as part of our #TAG project and created in collaboration with Hertfordshire residents via Zoom. #TAG aims to celebrate Hertfordshire Year of Culture 2020, funded and supported by Arts Council England, Dacorum Borough Council, Three Rivers District Council and Watford Borough Council.
Blog by Hannah Delaney & Claire, October 2020