Following the release of our dance film 'Play', this blog series will delve in to the making of it from the perspective of those who created it. We asked each of the Improvising Generations members involved to reflect on their experience of taking part in the project, and to share their insight in to how 'Play' came to be.
Introducing Brenda:
When asked to bring an object or image that reminded her of play, Brenda brought an image of chalk on the pavement and a game of hopscotch to the session. This brought back lovely memories of her childhood and encouraged a playful, creative outlet in the making of the film.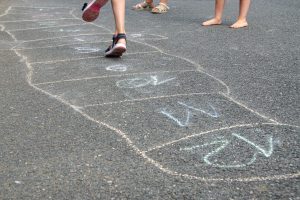 What are your lasting memories of play?
I loved to play with chalk. I remember with my friends playing together in the street playing for hours playing Hopscotch. We would laugh, argue and try to cheat because we all wanted to win. Most of all we enjoyed ourselves so much. I also loved to chalk in the back yard and on our shed door; to me it was like a sheet of paper. Looking back my mum, love her, never seemed to mind, she just washed the chalk off after I had finished.
How does play and the memory of chalk/hopscotch make you feel?
Memories of this makes me think what a lovely childhood I had and how happy I was. It was lots of fun.
In what ways did you bring those memories and emotions in to the #TAG Improvising Generations film?
I felt it was like going back to my childhood; I could be silly, enjoy, be creative.
Why did you want to take part in the project, and how would you describe your experience of it?
I wanted to take part in the film because I like meeting other people, and some I had done other events with. The experience was amazing; dressing up, making videos, having homework. Most all having a good laugh on Zoom with all the others that took part. Thank you all that helped me and made this possible.
What was your reaction to the final film?
The way that film was put together was amazing, it made me feel so happy to see all of us having fun, doing a bit of acting. My family and friends had a good laugh too, but thought it was great.
To watch #TAG Improvising Generations: 'Play', follow this link: https://vimeo.com/458942050
'Play' was commissioned as part of our #TAG project and created in collaboration with Hertfordshire residents via Zoom. #TAG aims to celebrate Hertfordshire Year of Culture 2020, funded and supported by Arts Council England, Dacorum Borough Council, Three Rivers District Council and Watford Borough Council.
Blog by Hannah Delaney & Brenda, October 2020