Following the release of our dance film 'Play', this blog series will delve in to the making of it from the perspective of those who created it. We asked each of the Improvising Generations members involved to reflect on their experience of taking part in the project, and to share their insight in to how 'Play' came to be.
Introducing Ciaran:
When asked to bring an object or image that reminded him of play, Ciaran brought an Action Man to the session, which would act as his starting point for creating movement and contributing his ideas of play to the film.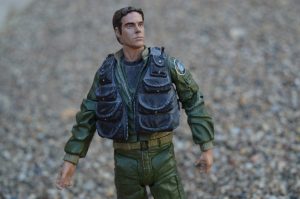 In what way did you bring memories and emotions of play in to the #TAG Improvising Generations film?
I couldn't move my hands when I was little, but I enjoyed playing with the Action Man.
Why did you want to take part in the project, and how would you describe your experience of it?
 The reason I wanted to take part in the film is because I enjoy playing with things. The film reminds me of the Action Man now, how I hold the Action Man and how I used it when I was little.
Ciaran's Action Man initiated a whole section of 'Play' that explored the idea of manipulation using the Action Man. Improvising Generations members recognised the element of control that Ciaran felt he got back from playing with his Action Man when he was little, at a time when he had less control over movement of his hands. This exploration through manipulation and play with the Action Man resulted in Ciaran leading the group's movement responses via movement of the Action Man.
To watch #TAG Improvising Generations: 'Play', follow this link: https://vimeo.com/458942050
'Play' was commissioned as part of our #TAG project and created in collaboration with Hertfordshire residents via Zoom. #TAG aims to celebrate Hertfordshire Year of Culture 2020, funded and supported by Arts Council England, Dacorum Borough Council, Three Rivers District Council and Watford Borough Council.
Blog by Hannah Delaney & Ciaran, October 2020
 Photo credit: Ciaran