Social distancing and lockdown measures due to COVID-19 have impacted the lives of many people, including the artists from BEEE Creative. How can we survive and stay creative in challenging times like these?
Every week we ask five questions to one of our artists. We start the series with Laura Horn, artist for the Dance Re:Ignite workshops and tour. She has previously worked on Museums in Motion and will be part of our new project #TAG.
1. How has social distancing and lockdown affected your ways of working?
For the first few weeks, I stopped delivering workshops to my existing group New Connections. I felt that it would be risky to lead a practical session for older people, many of them were isolating alone.
However, I started to suggest small movement tasks via our WhatsApp group. I encouraged the dancers with a video of my shadow dance. Many responded with their own versions and resulted in a creative dialogue which we all enjoyed.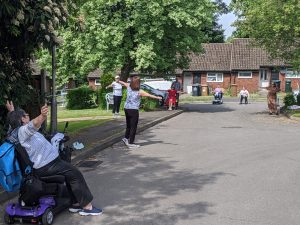 After talking to Carrie Washington, Director of BEEE Creative, I was assured that an online session could be effectively risk assessed. The main impetus was that the benefit to deliver a movement session, greatly outweighed the risks. So, I delivered my first Zoom Movement session last week and it was really successful!
By about the third week in lockdown, I noticed a group of residents chatting on their drives at the end of my cul-de-sac (as mentioned in our #TAG blog post HERE). I asked them if they would like to try a short movement session. I have been delivering daily short creative dance sessions every day since.
I had to adapt the creative elements greatly due to the distancing. Instead of giving out props, they all brought their own. Together we created dances with tea towels and wooden spoons.
2. During these tough times: what can still make you smile?
Watching my children play with each other. Talking to friends and loved ones.
Seeing the residents in my group smile and laugh when passers-by wonder what we are doing!
 3. How do you keep yourself motivated, learning and creatively inspired during this challenging period?
I like to watch other people's accounts of their own experiences during this period. The TV series 'Isolation Stories' is very moving.
4. When lockdown and social distancing ends, what would you want to keep doing?
Looking out for those around me and maintaining that all important human connection.
5. If you could give one tip to our readers to help them stay creative at home, what would it be?
Allow the everyday to inspire you, whether it be nature, stillness or a piece of music. Creativity can come out of everything and it can make you feel uplifted.
Blog by Laura Horn, 18 May 2020